We all know that pests are a major problem for homeowners. They always seem to come back year after year, and it isn't easy to get rid of them permanently. The key to keeping pests out is knowing how they work and what attracts them to your property in the first place! In this blog post, we will discuss the do's and don'ts of pest control so you can keep those pesky creatures from coming back time and time again.
Seal any holes and crawl spaces in the walls, floors, or ceilings
Pests tend to find their way inside our homes through holes in walls and/or floors. This can be due to age, wear and tear, or simply because you have not properly cared for your home. Either way, these are the most common ways that pests will enter our homes each year! Be sure to inspect all areas of your property for any small cracks where they could squeeze their way through. If you find any, seal them up with some caulk, and be sure to check over the next few months as well, just in case the pest problem comes back!
Properly dispose of leftover food
The foods we eat can attract pests such as fruit flies, mice, cockroaches, and other pests. These creatures will always look for a way into your home where they can find a source of water and food. Thus, you must keep your home as clean as possible at all times! Be sure to take out any garbage regularly and store dry goods in trash cans with tight-fitting lids. These will help prevent bugs and pests from coming into contact with our foods every day.
Clean up after pets
If you have dogs or cats, be sure to clean up after them! Common household pests such as mice can come into contact with your pet's food or water bowls. Remember to clean these out every few days, so there are no leftover crumbs for insect pests to eat and drink. You don't want to provide the pests with food and water sources as this is what brings them to your house in the first place.
Install a pest control system to keep pests from coming back
If you are looking for a more permanent solution to pest control, you should consider installing a pest management system in your home or business. There are many different types to choose from, depending on the issue you're facing at hand. These systems come with detailed instructions on stopping bugs and how you can incorporate them into your property.
Purchase an animal repellent that is safe for your pets and children
If you are worried about your loved ones coming into contact with chemicals, it is best to purchase a safe animal repellent. These products come in many forms, such as sprays, granules, and even mats that you can place under furniture legs. There are also natural remedies like plants and flowers that will help keep pests out of your home!
Get rid of clutter around the house
One of the most important things you can do to keep pests from coming back is to keep your home clean. Pests such as mice or roaches infiltrate our homes when there are a lot of places for them to hide and stay warm. If you have clutter lying around, this will only attract more bugs and rodents! Be sure that you clean up any messes you see right away and store things like clothes or shoes in tightly sealed containers. If there are already holes in the walls, floors, or ceilings, be sure to seal them to keep your home pest-free!
Clean up after yourself
Do not leave crumbs on the floor! If you are cooking, be sure to clean the countertops and floors when you finish. Pests such as ants and other insects will always look for a food source around your home; they can contact it if there is any left out. Be sure that you take out the trash every couple of days, so no crumbs are lying around to prevent ants from having something to eat!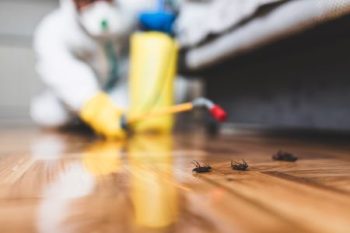 Clean your drains
Another common way for pests to get in is through the drains. There are many different types of pests, such as roaches and mice, that can fit in these tiny cracks! Also, drain any standing water, and wet areas as many bugs like mosquitoes will always look for a water source! Be sure to take out your drain covers every few months and clean them thoroughly with some cleaner or vinegar.
Plan for pest inspection periodically
If you are ever worried that pests may be making their way into your home, it is vital to keep up on pest inspections to maintain your family's health. Your service provider will send out professionals to examine your property and check for any signs of unwanted pests. These professionals can also recommend ways to keep these pests from coming back! These can come in the form of bed bug treatments or rodent control services.
Maintain your yard
If you have a yard, you must keep your grass mowed and clear of debris. Be sure to pick up any loose wood, leaves, or rocks that may be lying around. If you have a garden, make sure there are no holes in the ground so pests cannot get inside! Cleaning will help prevent any pests such as mice or bugs from having hiding places.
Contact Us for Help!
The Killers provides comprehensive pest control services to homes and businesses in the surrounding areas. From bed bug treatments and moth removal in Portland to animal repellents, we have you covered! Give us a call today for more information on how we can help keep pests from coming back!