Using Sentricon for Termite Control
Termites should never be taken lightly. If your home isn't protected against termites, it's vulnerable. Termites are responsible for $30 billion dollars worth of damage every year in the United States. If you don't want to add your home to that statistic, you have to take pro-active measures. That means choosing smart 24/7 protection. That means choosing Sentricon to protect your home or business in Yamhill.
Stay protected night and day.
Over-the-counter termite treatments do not provide the same level of protection you get with Sentricon. On top of that, these DIY termite treatments can be dangerous for plants and animals. If you have small children or pets, is that a risk you want to take? Sentricon utilizes underground and above-ground bait stations. These are carefully placed by our Certified Sentricon Specialists™ to provide the greatest likelihood of discovery. Once termites locate a station they'll bring the bait inside the colony for consumption.
How does Sentricon work?
Unfortunately for homeowners, there are no chemicals or pheromones that attract termites. The biology of a termite can still be used against it if you know how. That's why scientists have carefully refined the Recruit HD bait employed in Sentricon stations. Termites actually prefer it 7 to 1 over wood. This keeps them coming back again and again, bringing it into the colony where it prevents termites from feeding and reproducing.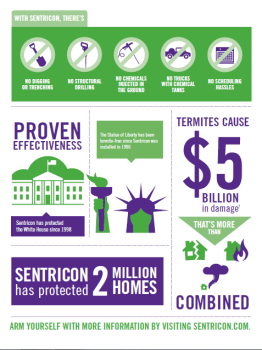 Why choose the power of Sentricon?
Termites never stop working. With Sentricon, your protection won't either.
Your home insurance may not cover termite damage. Are you protected?
Only certified companies like ours can install Sentricon products. Quality guaranteed.
Many treatments are external. Sentricon breaches the inner sanctum of the colony.
We trust our families and our homes to Sentricon. Get the best protection available.
Sentricon means EPA Certified Protection
The EPA gives out the Presidential Green Chemistry Award to products and companies that meet its high standards. A product must innovate at every level and remain environmentally friendly throughout the process. Sentricon is a winner of the PGCA. The EPA specifically cited Sentricon's low impact on human health, groundwater, and non-termites.
We believe in Sentricon and we aren't alone. Sentricon is used to protect over 3 million structures including the White House. From homes to sensitive sites and commercial properties, Sentricon is leading the nation in termite protection.
Contact us for Sentricon in Yamhill today!
Get termite protection 24/7. Choose the White House trusted, EPA endorsed system to protect your home. Call or contact us today to learn more from a Certified Sentricon Specialist™.
We provide our pest control services in a variety of other locations. When you need an exterminator in Clackamas, Gresham, Lincoln City, Salem, Wisonville, or anywhere in between we are here to help!
At The Killers we also offer Sentricon services in:
Gresham, Lincoln City, McMinnville, Newport OR, Portland, Salem, Vancouver WA, Beaverton, and more!